Welcome!
Thanks for stopping by! My name is Curran Jensen and I'm a freelance web developer from Nova Scotia, Canada.
I specialize in backend development in PHP using the Laravel Framework, however I also know enough about frontend to consider myself a full-stack developer :)
I am familiar with the following tech:
HTML 5
Modern JavaScript (Vue.js)
CSS (TailwindCSS)
MySQL
PHP 8.1 (Laravel)
TALL stack (Livewire and Alpine.js)
Testing (PHPUnit)
Source code control (Git)
Web hosting and application deployment (Digital Ocean, Laravel Forge/Envoyer)
I am striving to learn new things.
Please get in touch if there is something I can help you with!
You can also connect with me on Twitter: @curranjensen
From the blog
First Blog Post! - Jun 17, 2022
Gosh, what do you say for a first post on a shiny new website other than ... welcome! I hope to use this space to post content about web application development using the Laravel framework, and to share with the wider community any insights I stumble upon. Also as a service to remind myself of thing... continue reading
From the portfolio
annecamozzi.com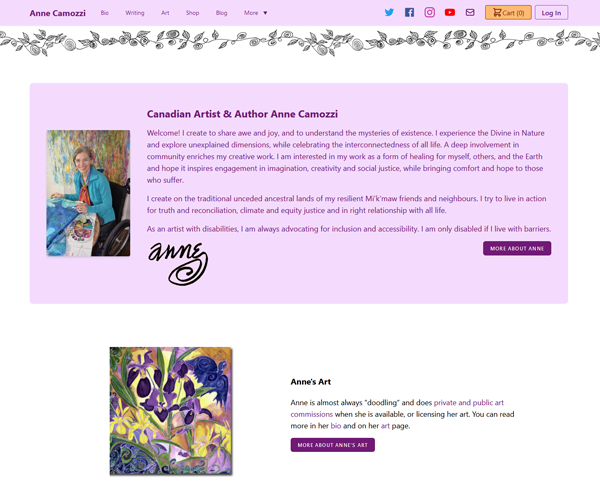 I have been extremely lucky to work with the amazing Nova Scotia artist and writer Anne Camozzi. Together we were able to launch a major redesign and upgrade of her website. This significant project involved unifying three different projects into a cohesive product. The first project was a redes... continue reading